For the first time importers, importing from China to the USA can be a complicated process, involving lots of unfamiliar steps, uncertainties as well as risks. Based on our years' of experience in serving thousands of clients, we'd like to share with you our know-how related to starting an import business in the USA and summarize key steps below to help you quickly master the import procedures to empower your business success. You can navigate the links below to learn more about each step.
What do I need to prepare before importing?
How to choose the right products to start?
How to find reliable suppliers in China?
How to ship products from China to the USA?
How to pass import clearance and pay customs duty?
What are the product compliance requirements in the USA?
1. What do I need to prepare before importing?
a. Do I need a license for importing?
The U.S Customs and Border Protection does not require an importer to have a license or permit, but other federal agencies may have such requirements depending on the products that are being imported into the United States.
When purchasing below items, you need to obtain licenses or permits to ensure compliance with relevant requirements (e.g., FDA, EPA, DOT, CPSC, FTC, Agriculture, etc.)
Food products
Plant, animal, dairy,
Prescription medications
Trademarked goods such as name-brand shoes, handbags, luggage, etc.
Copyrighted material such as CDs, DVDs, and tapes, etc
b.What's customs bond? Do I need to purchase it?
A customs bond is a guarantee between 3 parties: the insurance/surety company issuing the customs bond, the principal (the importer of record) and U.S customs and border protection (CBP). It assures CBP that the importer of record will fulfill his responsibilities for customs duties, penalties, and other obligations.
If you use a customs broker to help you clear the goods through CBP, you can use the broker's bond by paying the service fee of the broker. If you import goods subject to FDA's requirements, you must purchase a customs bond and register your importer information on the FDA website to be qualified for importing. If you want to clear goods by yourself, you also need to purchase a customs bond from a licensed surety agency.
c.What's the importer number required?
During the entry process, the importer number will be needed on the entry form. It can be your IRS business registration number, or if your business is not registered with the IRS or you do not have a business, your social security number will be sufficient.
As an alternative, you may also request a CBP assigned number by completing a CBP Form 5106 and presenting it to the entry branch at a CBP port of entry.
Sounds a bit complicated for you? If so, you can always hire a customs broker to help you deal with everything from document preparation to import clearance.
2. How to choose the right products to start?
Especially when you are new to the import business, a good and successful start cannot be more important to maintain your business interest and lay the foundation to further grow your future business. The key is to find the right products to start with. If you want to develop a brand new product from just ideas, you can easily make it happen with our agent service.
a. How to find the right product niche to import from China
1. Go with your interest.If you are interested in outdoor sports, you can consider beginning with outdoor products, such as camping bags, portable shower, etc.
2. Go with hot selling products. If you are an Amazon seller, you can research its top ranking list, then choose products that you can find more competitive suppliers to give you pricing advantages in the market.
3. Go with private labeling products. Customers are willing to pay more for products with unique design or packaging, if you can offer such products along with your own private labels, it'll give your business comparative advantages over others.
b. Products that are not suggested for importing from China to the USA
Branded products. It is much cheaper to buy American brands in the USA. Although brands such as iPhone or Nike, etc have manufacturing bases in China, their prices in China are 20% higher than in the states.
Products with high tariff rate. Besides product prices, you also need to care about the import duty before deciding to import. Under current trade war, many categories such as electrical equipment and machinery, textiles, vehicles, etc are levied on an additional 25% tariff. The increased total import costs might not give you competitive selling prices as you might think.
Food and supplements. Importing food products is not a good start, it is more advisable to purchase locally. China imports heavily of such products from the USA every year. Also, you'll have to obtain licenses or permits for importing those products under the FDA's special requirements. The customs clearance process for food and related products is also very complicated.
Products in high demand, but of low value. Baby diapers, toilet paper, A4 paper, etc are such examples. Plenty of new importers mistakenly believe that they could earn a lot of money even if the profit is only 5-10%. Because they think these products are always needed and popular in the market.
3. How to find reliable suppliers in China?
a. Find suppliers offline via trade shows or wholesale markets
Attend new product industry trade shows in the US
More and more small to large-sized Chinese suppliers are attending overseas exhibitions to showcase their latest products and technologies in the world arena.
The International Consumer Electronics Show (CES), GSMA, ASD Market Week, Global Pet Expo, Toy Fair New York, etc are those most popular ones. Keep an eye on the event time of your industry and get prepared to search, talk with and exchange contact information with suppliers onsite.
Attend Canton Fair in China
Canton Fair is the largest import and export fair in China. It is held every April and October. You'll meet suppliers from virtually every industry and select products that you are interested in.
You can also go to Hong Kong for Hong Kong Electronics Fair, Hong Kong Toy Festival, International Jewelry, and Fashion Expo, etc to look for business opportunities.
If you do not have plans to visit China, the most economical way to search for Chinese suppliers is through e-commerce websites. Below listed are top wholesale websites for you to browse and compare between suppliers. There are also 8 principles to identify good wholesale suppliers.
Alibaba.com Alibaba is the world's largest directory of suppliers, there is no need for me to address the importance of using Alibaba to help with your global business. What I want to highlight here is that you need to be cautious of potential Alibaba scams. In addition, there are also other risks involved, you need to know how to purchase safely on Alibaba by avoiding those risks.
Many clients who source directly through Alibaba got cheated and lost money. Besides the scams, how to purchase safely on Alibaba
Made-in-China.com and Globalsources.com There is no big difference between these two sites. Most suppliers have MOQ over $5,000. According to our experience, if you are purchasing electronics, you'd better look for suppliers on Globalsources; while for machinery, vehicles, etc, Made-in-China can be better.
DHgate.com and Aliexpress.com Suppliers on both sites do not have MOQ requirements, you can buy in small quantities as you like. Buying 1 or 2 products is also acceptable on AliExpress. GHgate is more suitable for startups and B2C e-commerce platform seller which can wholesale a small amount of the products to test their market.
They are the best choices for those Shopify, Amazon, Lazada and eBay store owners or those offering drop shipping services. Below is a brief summary of the differences among those websites.Show 102550100 entriesSearch:
| Amount | Recommended Websites | Business Type |
| --- | --- | --- |
| >$1,000 | Alibaba, Made-in-China, GlobalSource | Medium to large importers / traders |
| $200-$1,000 | DHgate | Shopify, eBay, Amazon, Lazada Owners |
| $1-$199 | AliExpress | Dropshipping Business |
c.Place an order
Once identified several suppliers and compared quotes, you can start placing a sample order or trial order. Request a Commercial Invoice or Proforma Invoice and packing list from your supplier to include product description, price, and packing details.
4. How to ship products from China to the USA?
When the goods are ready, you need to choose a mode of transportation to ship your merchandise to the US. There are many ways to choose from, such as freight (air or sea), courier, and mail. It depends on the value of your commodity and urgency.
We've also written below articles on different shipping methods, shipping time and costs, if you want to know more details, please check below:
a.Courier Shipping from China to the USA
It is suitable for goods between 1-1000 lbs (less than 500kgs) and usually takes 4-7 days from China to the USA.
Advantages:
No need to worry about customs clearance, as it is done by a customs broker hired by the courier company. In most cases, delivery is quick and reliable. When there's a problem, you can check the tracking number on the express companies' website.
International Express Companies:
There are plenty of express companies to choose from. Service providers such as UPS, FedEx and DHL are frequently used. But we usually suggest our clients to choose FedEx and UPS. Although DHL is cheaper, delay in delivery always happens in the US.
How to pay:
If you choose to express to ship your goods, you need to pay the delivery cost to your Chinese supplier, as they'll help you arrange the shipment for you. All you have to do is to sign for the package when it arrives.
b.Freight Shipping from China to the USA
Goods can arrive at US port either by sea freight or air freight. In either way, you need to decide if you need to hire a local freight forwarder in the US or to ask your supplier to find one in China, to help you ship the goods.
If you want to have your own freight forwarder and let them handle everything for you, you'll need to search for a freight forwarder partner. It can be easily done online by yourself via Google. Meanwhile, you need to inquire about FOB prices from suppliers, which exclude freight, insurance, etc.
If you'd like your Chinese supplier to arrange shipment for you to the US port, you can inquire CIF prices from the supplier, which include the freight costs, insurance, etc. During the import entry process, you need to hire a customs broker to help with the import clearance.
Air Freight
When you order over 1,000 lbs of goods, air freight can be a better choice than express, as the total cost will be much lower. You can inquire your freight forwarder or Chinese supplier about the specific rate before shipping.
Sea Freight
When the volume of your merchandise reaches over 2CBM, it is more economical to use sea freight. The cost of sea freight is usually 80% lower than that of international express or air freight. The only thing is that it takes around 25-40 days to get to the US port.
c.International Postal Service
Before deciding to send by international mail, you'll need to ensure if your goods are legally permitted to be sent through the U.S Postal Service (USPS). Goods valued at or more than $2,500 cannot be sent through the mail, as it requires a formal entry.
Mail delivery can be very economical. The disadvantage is that it is hard to find lost parcels, as it does not have a tracking number unless you buy insurance for it or pay extra dollars to get a tracking number.
It is best suitable for small parcels less than 2kg in the drop shipping business.
5. How to pass import clearance and pay customs duty?
Upon the arrival notice of your goods, you or your customs broker will need to present relevant documents to the U.S Customs and Border Protection to clear your goods within 15 calendar days of your goods' arrival.
Otherwise, the goods will be transferred to a warehouse, and you'll need to pay for storage fees. If you have not claimed your goods within 6 months of their arrival, they could be sold at auction.
The import clearance process can be more complicated than you think, as a new importer, we'd highly suggest you to hire a customs broker or forwarder partner to help with all the import clearance procedures and document preparation.
a.Documents required for customs clearance
Bill of Lading (B/L)
A bill of lading is a critical document to ensure the exporter will receive payment and the importer receive the merchandise. It is issued by a carrier or their agent to acknowledge receipt of cargo for shipment.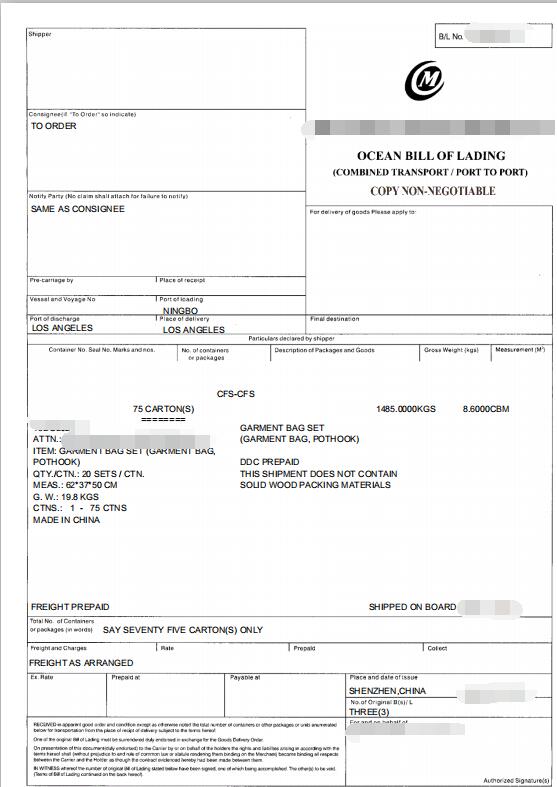 Commercial Invoice
CBP will collect customs duty based on the declared value found on the commercial invoice. It also helps the customs to make judgment calls on whether the goods are admissible. It includes below main information:
Product Description
Quantity
Country of Origin
Value of goods in both US dollars and Chinese Yuan
Tariff Classification
Name and address of the seller or company selling the goods
Destination address in the US
Packing List
The packing list contains key information from the commercial invoice, detailing the packing information of the merchandise. It usually goes with the commercial invoice and used by the customs to verify the shipment.
Arrival Notice
The arrival notice is issued by freight carrier and used to inform the importer of record that the goods have arrived at the U.S border.
b.Customs Duty & How to pay it?
The importer should know the purchasing price does not include any duty and it is You, who are responsible for paying any import duty at the time of import clearance.
Customs Duty = Customs Value * Duty Rate
The customs value is based on the declared value on the commercial invoice. In the US, customs value is based on FOB prices, consisting of the following costs:
Product Costs
Transportation costs (to the port of Loading in China)
Cost for export clearance
The duty rate is based on H.S code and country of origin. If you want to know how to check the duty rate under HTS (Harmonized Tariff Schedule) and calculate the import tax for your commodity, please read our article Import Tax from China to US 2019.
How you pay the import duty depends on how your goods were shipped.
1. If the goods are shipped by mail, you will need to pay the mail carrier or go to the local post office to pay any duty and processing fees. If it is just a small parcel, you do not need to pay any duty fee.
2. If the goods are shipped by international express, the express will either bill you for the duty they paid in advance or require payment on delivery.
3. If your goods were shipped by freight, there are two possible scenarios for paying duty. If you clear the goods by yourself, you'll need to pay duty directly to CBP at the port. If you hire a customs broker to clear the goods, you'll need to pay for their service, including any duty they paid on behalf of you.
6. What are the product compliance requirements in the USA?
As an importer, it is important for you to ensure your products are safe and do not create injury or release hazardous substances in the market. The U.S federal agencies specify the safety regulations and standards pertaining to each product category.
If you are an Amazon seller, besides the national standards, you also need to know which products require pre-approval before you can sell them on Amazon. For products such as hoverboard products, laser pointers, and specific products in the software industry, will require prior approval from Amazon. You can also find a list of Amazon restricted products and FBA product restrictions on Amazon website.
To know which product certifications are needed for customs clearance, you can double check with your customs broker or freight forwarder to prepare for all the certificates.
All the products imported to the USA must have the country of origin label-"Made in China"; however the certification required for different products vary. For your ease, we list some of the most popular requirements by product category.
Product Category
Regulations and Certificates
Children's products, such as toys, etc
CPC (Children's Product Certificate)

ASTM F963
Auto, motorcycles
EPA compliant (Environmental Protection Agency)
Electrical and electronic products
FCC compliant (Federal Communications Commission)
Food, drugs, biologics, cosmetics, tobacco products, etc
FDA compliant (Food and Drug Administration)
Kitchen & Dining products
California Proposition 65

Food Contact Materials Testing: FDA CFR 21
Medical devices
Premarket approval under FDA
Besides the above products, the FDA regulates a range of products to ensure the products available in the US market are safe. To know if your products are under FDA regulations, you can check here for more information.
For apparel and textile products, there are several federal agencies administering relevant regulations as shown below. For more information, you can check the apparel compliance requirements here.
| Agency | Scope |
| --- | --- |
| Consumer Product Safety Commission (CPSC) | Flammability, children's products; hazardous substances |
| Customs and Border Protection (CBP) | Country of origin for most imported products |
| Environmental Protection Agency (EPA) | Pesticides, toxic substances |
| Federal Trade Commission (FTC) | Labeling (care labeling, fiber content labeling, environmental labeling, country of origin labeling, advertising) |
| United States Department of Agriculture | Organic claims |
To know more about the electrical compliance requirements, you can click here.
Shortcode:
| Agency | Scope |
| --- | --- |
| Consumer Product Safety Commission | Children's products, hazardous substances, labeling of hazardous products, consumer product safety |
| Customs and Border Protection | Country of Origin for most imported products |
| Department of Energy (DOE) | Energy efficiency |
| Environmental Protection Agency(EPA) | Toxic substances, Energy Star |
| Federal Communication Commission (FCC) | Radio frequency and digital devices |
| Federal Trade Commission (FTC) | Labeling, EnergyGuide standards, environmental claims |
| Occupational Safety and Health Administration (OSHA) | Occupational safety, nationally recognized testing program |
| Food and Drug Administration (FDA) | Food contact substances, medical products and devices |
Thank you for your reading. If you need help to find a reliable supplier to be your consistent source of high-quality products with competitive prices, we are here to offer you with our one-stop service from supplier sourcing, quotation, sampling, production follow-up and shipment delivery.